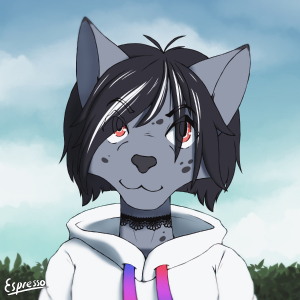 Heya! I'm Espresso
I'm a digital artist and caffeine addict who's been drawing for the better part of a decade. I love drawing all sorts of things, but usually it ends up involving cute boys in hoodies these days.
Commissions are open!
My tools:
Clip Studio Paint
Huion Kamvas GT-191
Commission Prices
Please not that these are base prices only. I may charge an additional cost for particularly complex or time-consuming commissions. Please see my terms of service for more information.
Basic Commissions
Type
Flat Shaded

Flat color and simple shading

Painted

Colored, textured, and shaded more realistically

Bust

Head and shoulders, perfect for profile pictures!

$24
$30
Waist-up

Roughly half of a character, showing off a bit more

$32
$40
Fullbody

An entire character in all their glory

$40
$50
Illustration

Multiple characters or a particularly complex scene

$60
$75
Comic

Tell your story

— Price varies
You provide a script and some character references, and I'll turn that script into an illustrated work of art.
Comics are priced per-panel at 75% of my basic commission prices.
Animation

Make it move

— Price varies
Animated works can range from simple loops to complex scenes.
Animations will be priced on a per-project basis depending on the scope of the project. All animations will be flat shaded.
Reference Sheet

Show off your character in style

— $90
Base price includes two drawings of your character in poses and outfits of your choice, along with some written details and a color library, allowing you to show off your character in detail.
Additional drawings and features are available for an extra cost. All reference sheets will be flat shaded unless otherwise requested.
PNGTuber Avatar

Become a PNGTuber!

— $75
Who wouldn't want to stream as their sona? The base price gets you one avatar state, which includes idle and speaking art, and blinking variants of both. Additional states may be added for $50 each, allowing for even more expressive avatars!
All avatars will be flat shaded unless otherwise requested.
Avatars are designed to work in veadotube mini, but the artwork should be applicable to any PNGTuber application.
Additional Information
I will draw:
All species, including furries, humans, fantasy races, aliens, etc…
OCs and fan characters, whether yours or mine
Fanart of certain characters (Ask me)
Suggestive poses and outfits
Implied / artistic nudity
Complex backgrounds and scenes
Light violence or gore
Some heavy topics and themes (Ask me)
I will not draw:
NSFW scenarios
"SFW" fetish content
Depictions of extreme violence or gore
Artwork promoting hate or discrimination
NFT characters
Timeline
Inquiry
We will discuss your inquiry, settle on a price, and handle payment.
Sketch Phase
I sketch out the drawing, providing updates and making changes as necessary.
Approval
I submit the sketch to you for final changes and approval.
Drawing Phase
I work towards finishing the drawing, providing updates as necessary.
Completion
I present the final piece for last-minuted tweaks and approval.
What you get
At minimum, you will recieve your full-resolution file(s) in JPG or GIF format. Avatar commissioners will also recieve a .veadomini file for importing directly into veadotube mini.

Additionally, you may request:
Alternate images, resolutions, and file types.
A timelapse video of the drawing process.
Inquiries
If you'd like to inquire about a commission, or have any other questions about me or my work, please get in touch! I can be reached via email, espressothewolf@gmail.com or on Twitter, @EspressoTheWolf.

Please include:
A detailed description of the artwork you would like to commission.
Any visual references you wish to provide.
An email to which I can send payment information.
Any other information, requests, or questions you may have.
Please ensure you have read and agree to my terms of service before submitting an inquiry.
Terms of Service
General Terms
All commissioners must be 18 or older.
Commissioners must have permission to use all characters included in the commission. Clear visual references for all characters should be provided in the inquiry.
Deadlines, if any, must be made clear in the inquiry. An additional cost may be added for rush work. I do not allow deadlines for comics or animations due to the work involved.
Inquiries containing anything in my will not draw list will be ignored, and the commissioner may be blacklisted.
In-progress and completed artwork may appear on my social media pages, website, and livestreams. Please let me know in the inquiry if you would prefer the commission to remain confidential.
Payment
Payment will be made through PayPal invoice only. Other forms of payment will not be accepted.
New commissioners and those commissioning artwork over $50 are required to submit at least 50% of payment before work will begin.
Additional charges may be added for complexity, rush work, inconvenience, etc.
Full payment, including additional charges, must be recieved before the commissioner recieves their final file(s). Failure to pay, charging back, or attempting to dispute payment will result in the commissioner being blacklisted.
Changes
Commissioners will be sent a final sketch for changes and approval before moving on to finishing stages. Major changes must be made prior to this approval step, while minor changes may be made at any stage in the process.
Major changes after approval may incur an additional charge depending on the amount of work involved.
Refunds and Cancellation
I may refuse or cancel any commission at my discretion. If I cancel or am otherwise unable to complete the commission for any reason, commissioners will recieve a full refund.
Commissioners may cancel prior to approval of the final sketch to recieve a full refund. Later cancellation will result in a partial refund based on the amount of work completed at the time of cancellation.
Rights and Agreements
I reserve all rights to the commissioned artwork.
Commissioners may use commissioned artwork for personal use.
Commissioners may not use commissioned artwork for commercial purposes.
Reasonable credit must be provided when the commissioned artwork is posted publically.
Commissioned artwork may be resold or traded, but the resale price must not exceed the original value of the commission. When commissioned work changes ownership, the new owner(s) must agree to these terms.
Commissioners may not use any part of commissioned artwork in the minting or selling of NFTs (Non Fungible Tokens) or other blockchain-related technologies.